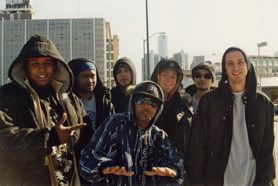 Disc 1
1. Asylum 7 Ft. Magestik Legend - Hold Ya Weight
2. Automation Alley - Runnin'
3. Metasyons - Givin Up
4. Draztik - Spit Fire
5. D. Allie - Change The Name
6. USM (Metasyons, Asylum 7 & Five-Ill) - Froze Tongue
Disc 2
1. Metasyons - R.O.A.R.A.
2. USM (Asylum 7, D. Allie & Metasyons) - USM Represent
3. Five-Ill Ft. Asylum 7 - Real Talk
4. D. Allie Ft. PL - Let It Knock
5. Draztik - Second Nature
6. Asylum 7 - State of Mind
USM (United States of Mind) is a collective of diverse, yet like-minded individuals who have come together to advance today's stagnant hip-hop culture. The collective consists of five emcees (Asylum 7, Metasyons, Draztik, 5-Ill, & D. Allie) and two dj's/producers (Crate Digga & Sleepy Biggs). Flexing an array of musical styles and influences, this distinct batch of artists provides a fresh and innovative approach to the art form, merging new school lyricism with old school foundation and ethics forged in Detroit's blue-collar blood. Ever since their formation in early 2007, they have taken huge strides for themselves and the music, performing all around Michigan and frequently venturing into other midwestern cities. They have shared the stage with many of hip-hop's elite, such as Zion I, OneBeLo, Blueprint, and Souls of Mischief. "USM continues to stun audiences with their energetic live show while impressing critics with their recordings" Real Detroit Weekly (Best Hip-Hop group of 2008 honors).
www.myspace.com/usmdet