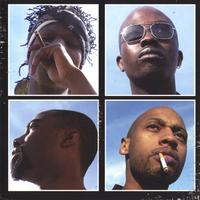 "What if 2pac was a group....."
Chicago, hip hop's new mecca, is rapidly
being recognized for being the new breeding
ground for the self-produced-artist/franchise
performer. The Midwest capital has given the world
R. Kelly, Kanye West, and now, the band: Qualo.
Qualo, meaning "The four of us", consist of four
producer/rappers from the West side of Chicago.
This seldom-seen combination makes their musical
reach wide and addictive. The four come together
with an energy similar to the heydays of the hip
hop super-group. Bottomline: a definite
franchise...
Preast delivers soul-touching,
picturesque rhymes with a lyrical depth
paralleled only by such greats as 'Pac, Nas, and
Eminem. Stepping in the producer's arena, Preast
provides equally intense production that is both
refreshing and edgy. Chicago Shawn adds a stick
of dynamite to the recipe with a high octane flow
to match his intricate wordplay and introspective
sentimentality. His innovative production keeps
Qualo on their toes and listeners under that
hypnotic Qualo spell. Adding fuel to the fire is
Optimyst. Optimyst lends his distinguished
wordplay, commanding the listeners' attention.
His compelling "prose" style verses possess a
quality of simple sincerity and clarity; a kin to
musical icons, Outkast. No stranger to the boards,
he also lends his hand in constructing the distinct
Qualo sound. Shala Esquire adds a truly cultured
"Fugee-esque" perspective to the group. A native
Nigerian, Esquire is the proverbial glue,
anchoring the Qualo sound with his intriguing
street narrative poetry and rock-influenced
production.
Qualo's unique blend of bass-heavy beats, fierce
rhyme techniques, infectious chants and catchy
hooks, set to a backdrop of soulful music, social
awareness, and political satire will have you
rolling in emotion one minute and laughing out
loud the next; all the while nodding your head
uncontrollably.
While the music is an experience in
itself, Qualo's true essence can only be captured
by seeing their live show. Qualo captivates the
audience with a stage presence that is both
exciting and inviting. They possess a synergy
and presence rarely seen in this post-new school
hip hop era. Whether you're a "hip hop purist",
a radio junkie, or a rap critic, if you put your
ear to the street and listen closely, you'll hear
and be quickly entranced by the "hood's
heartbeat"...
the Qualo sound.
Track Listing:

1. Creed
2. Immortal Movement Nation
3. Do What the Track Say
4. Dro
5. Pimpaholic
6. How to Make a Baby Mama
7. Ride Slow
8. Come Outside
9. We Are the War
10. Holiday
11. Coco
12. Im Yo Brother
13. I Ain't a Pimp
14. So Mo Gangsta
15. This Little Light
16. Diary of a Mad Band
17. Never Die

This shit is HOT!! Keep a look out for new releases this year coming soon!


bump it